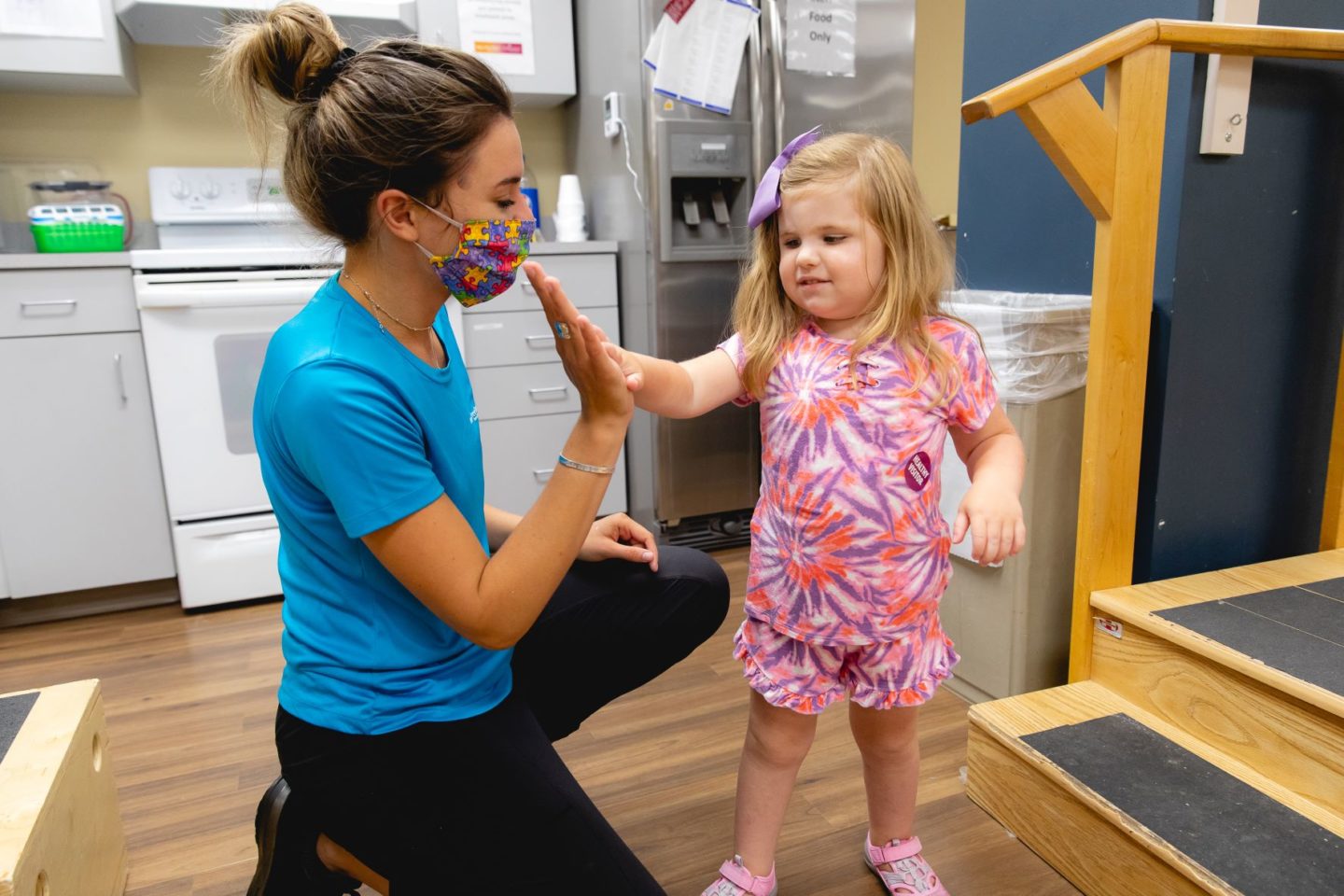 We combine expertise and lots of love when caring for your child. Our goal? Help every child maximize their potential with exceptional pediatric rehabilitation.
Mary Free Bed Rehabilitation at Covenant HealthCare provides outpatient programs and services for children from birth to adulthood for a variety of diagnoses.
We also treat children 12 years old and older for serious or complex conditions that require inpatient rehabilitation. Call 989.583.2729.
Conditions + Diagnoses
Conditions + Diagnoses
Many outpatient options are available, whether your child continues treatment after an inpatient stay or is new to Mary Free Bed at Covenant.
Specialized rehabilitation is available for children of all ages with various conditions and diagnoses, including:
Amputation
Brachial plexus injury
Brain injury or post-concussion
Cancer
Clubfoot
Dysphasia
Feeding difficulties
Lymphedema
Myelodysplasia
Pelvic and abdominal conditions
Plagiocephaly
Prematurity
Scoliosis
Spasticity
Speech and language difficulties
Spinal cord injury
Sports injury
Stroke
Torticollis
Your Child's Experience
Your Child's Experience
There's no one-size-fits-all rehabilitation – especially with kids. Your child's therapy plan may be different from another's, even though their challenges can seem similar. The speed of recovery may also differ.
Our approach to rehabilitation is the same for every child and condition. We heal with our hands and treat with our hearts.
Treatment
Your child's outpatient care begins with an evaluation. Based on specific needs and goals, we'll develop a rehabilitation plan that could range from just a few sessions to several months. We're here for as long as your family needs us.
Our team has specific training in treating kids and will help your child recover as much as possible – as soon as possible. Depending on your child's needs, your team may include:
Rehabilitation doctors
Occupational therapists
Physical therapists
Psychologists
Speech-language pathologists
Behavior analyst
Family and friends play an important role in your child's care, too. You're part of the team!
Specialized Spaces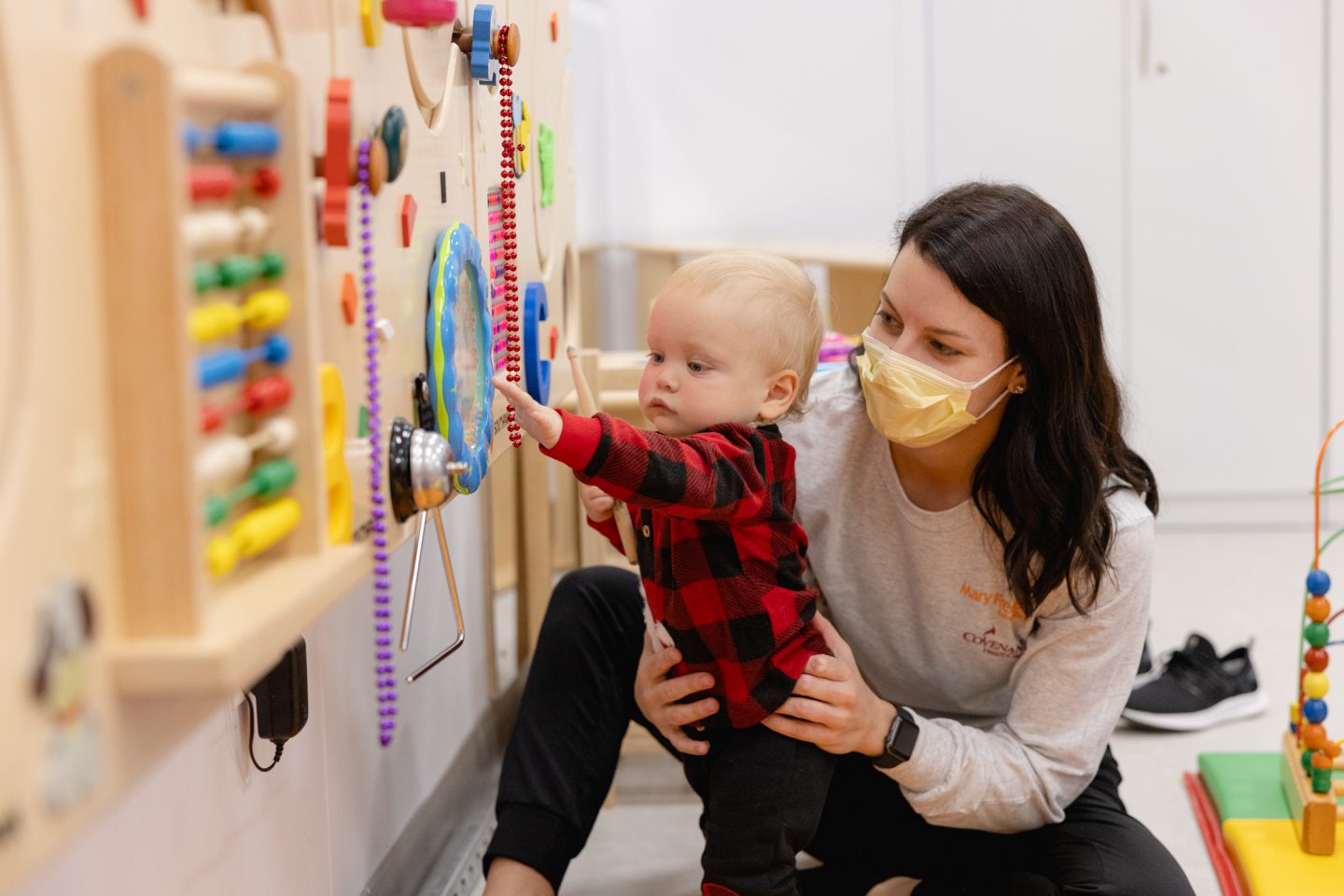 Specialized spaces
Our kid-friendly outpatient location at the new Mary Free Bed at Covenant hospital is specifically designed to support therapy disguised as play. It features bright and cheery colors, a pediatric therapy gym with appropriately sized equipment and individual treatment spaces.
We also have Orthotics & Prosthetics + Bionics with an on-site fabrication lab.
Services
Services
We provide an array of resources, including education, specialty services and therapies for specific patient needs. Services include:
Augmentative communication
Equipment evaluation
Serial casting
Wheelchair evaluation
Appointments
Make an appointment
To get started, we need a referral from your child's physician. When we receive the prescription for therapy and verify insurance coverage, we'll contact you to schedule your child's initial therapy evaluation. Call 989.583.6386.